GUESTS ARE ALWAYS WELCOMED
We know that visiting a church can be a fearful thing. Sometimes you don't know what to expect. Our desire is to make your visit to Two Rivers an enjoyable family event. Let us help you with answers to expected questions.
WHERE IS TWO RIVERS COMMUNITY CHURCH?
Two Rivers is located at 3400 Little York Road,
Dayton, Ohio 45414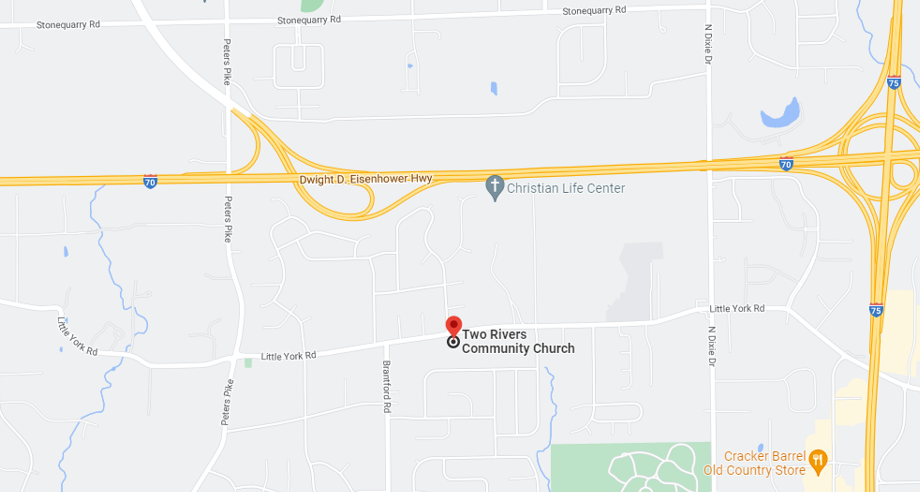 When are the service times?
Our Sunday begins with our Two Rivers Institute a time of applicable Bible study for the entire family. The highlight of our Sunday is our morning worship service which begins at 10:30 a.m. We also have multiple fellowship groups that meet throughout the week as well as a Bible Study at the church each Wednesday Night at 7 PM.
WHAT HAPPENS IN THE WORSHIP SERVICE?
We sing in our worship service. Our singing is a mixture of historical hymns, psalms and modern songs. Our focus is on congregational singing so that everyone can participate in songs of worship and mutual encouragement.
We pray in our service. We take the time each week to pray for a different country around the world, for gospel partners, for our nation, and for different ministries and members of our church.
We listen to God's Word. The majority of our service (45 minutes) is hearing from God's word. Our pastor will explain what the scriptural text means and why it matters to us. Most of the time we work through a book of the Bible week by week. That allows us to understand the whole message of the Bible.
Our worship service typically lasts approximately 75-90 minutes.
WHAT ABOUT CHILDREN?
First and foremost, we love children. Two Rivers is a family church that has children of all ages. We encourage our families to worship together.

Guests always have the option of what is best for their children. If you would like to keep them with you during the service, you are welcome to do so.
A nursery is available during all services for children ages 0-3 and for nursing mothers. All of our volunteers go through training and complete background checks before serving in the nursery to ensure a greater degree of safety for everyone.
OTHER QUESTIONS
WHAT SHOULD I WEAR?
Attenders and pastors at Two Rivers wear a variety of styles and fashions. You'll see families dressed in anything from T-shirts and shorts, to dresses and suits. Whatever your style, we're glad you're here!
WHAT TIME SHOULD WE BE THERE?
We invite you to arrive a few minutes early so your first visit goes smoothly. Our greeters will be waiting with a smile to introduce themselves and provide you with a free gift. If you would like, we would be happy to show you around the building and introduce you to some of our members.
DO I Need A Bible?
If you own a Bible, you will want to bring it. Our pastor teaches straight from Scripture. He will often refer to it and even encourage you to mark your copy. If you don't have one, don't worry! There are copies under the chairs for you to use.
Our pastor teaches from what is known as the New American Standard Bible (NASB). We encourage everyone to bring and use the translation they are most comfortable with.